PLEASE NOTE THERE IS CURRENTLY A PROBLEM AT THE SAGEPAY PAGE. PLEASE PLACE YOUR ORDER AS USUAL AND WE WILL CALL YOU TO TAKE PAYMENT OR SEND YOU A PAYPAL REQUEST. APOLOGIES.
School keepsake boxes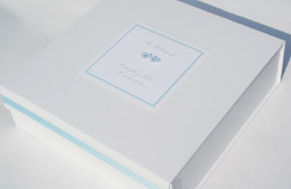 2014 PLEASE NOTE WE HAVE CHANGED THE STYLE OF OUR BOXES AND THE LID IS NOW INTEGRAL TO THE BOX AND THE RIBBON ONLY WRAPS AROUND THE FRONT FLAP DOWN OF THE LID AS SHOW IN THE IMAGE TO THE RIGHT.

Earn funds for your PTA through our school keepsake boxes
We offer 10% cashback to the PTA or equivalent at your school on the sale of all boxes or albums. All we need is a jpeg of the school emblem or logo and we will design a box exclusively for your school. Email us at laura@thebeautifulboxco.co.uk or use the recommend to a friend email link below the products or call us on 01883 371973



© 2013 Beautiful Box Co., All Rights Reserved.