Press reviews and customer comments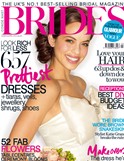 Review on Vogue 'Brides' Magazines website
Brides magazine reviewed my albums last year - here is what they said about them!
Go to 'Brides' website


Review on Bambino Goodies
Just discovered this review of my products on this website, gorgeous website featuring loads of very cool baby gifts and products and they love my stuff too!!
Go to bambino goodies website


Claudia Schmid
Hello Beautiful Box-Team,

i've got my weddingdress box today and i love it so much. Thank you for the wunderful box!!!

Best wishes from Germany,

Claudia

Jane Wood
Hi Laura

Just wanted to say thanks for my album, it arrived today and it's perfect. Having spent months looking for an album this exactly what I'd hoped for. Just have to find time to stick the photos in now! Will let myself in to my friends' house while they are away so that they get it on their return, I'm sure they will love it.

Kind regards

Jane


Pauline Rooney
Hi Laura,
Just wanted to say that the Wedding photo album box & arrived safely this morning and it is perfect! Your attention to detail is fantastic and I'm sure my friends will love it.
Thanks you again for the speedy turnaround, and I will definately be recommending you to all be friends and family

Many thanks,
Pauline

Jodie Ford
Hi Laura

I have now received the keepsake box and the photo album. i just wanted to say they are absolutely gorgeous and we love them. i will definitely recommend people to you and will order again when we have our next baby! thank you so much.

Laura Eraut
Hi Laura,
Just wanted to say that the box is so beautiful and i'm sure my friends will love it.
I think it's the 3rd box I have ordered from you now and the speed and service is as great as ever.
Many thanks,
Laura
Alison Sherwood
Dear Laura,
I just wanted to thank you so much for the wedding guest book I received today from you - it's beautiful. I have looked at so many and not liked any of them and was beginning to panic as the wedding we are going to is this Saturday. The book you have sent me is perfect - thank you very much.
Kind regards.
Alison
Kate Ide
Hi Laura,
I just wanted to thank you for the box! It is truly beautiful and will be something I will treasure!
Kind regards
Katie
Debbie
I received the box today and it is beautiful! Thank you so much! Kenzie loves it aswell and he now has a special place to keep his pictures and memories of his daddy.

I hope you have a lovely christmas and I will certainly be recommending your business to friends.

Claudia
My invitations have been very well received Laura!! Several people have commented on the 'beautiful' invitations so that's all very satisfactory...thanks so much.
Martine - in reference to the School Boxes
I LOVE them all - they are truly gorgeous and will be appreciated by both parents and children alike!! What a delightful innovation you have come up with!
© 2013 Beautiful Box Co., All Rights Reserved.